Wilson Combat 'Fix It Kit' Competition Match Spring, And 47D Magazine Combo Kit
"The same gear Wilson Combat puts on their $4000 guns"
-Revives 98% of faulty 1911's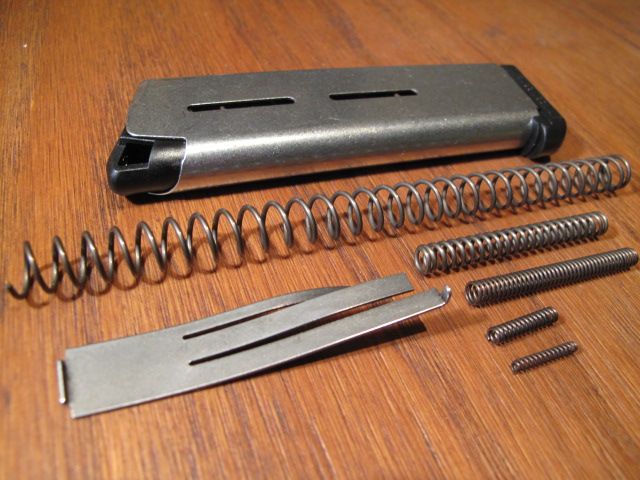 About the Wilson Combat 47D magazine:
- Stainless Wilson Combat 47D 8-round 1911 Magazine.
-Brand new in factory packaging. 
-With Extended Slam Pad.
-The Best Mag in the business. Fully Factory Guaranteed. 
-The Cheapest way to ensure PERFECT pistol function. 
-1911 GOVERNMENT The magazine holds 8 rounds of ammunition and has a stainless steel finish. 
-Single-stack magazine Pre-drilled for base pad installation 
-Fits Colt Government and Commander models 
- Model Colt 1911 
- Finish/Color- Stainless 
- Caliber 45 Automatic Colt Pistol (ACP)

Wilson Combat Complete Spring Set for Full Size Government 1911 316G

This top quality complete spring set for a full-size, 5" 1911 contains every spring needed to complete or upgrade your pistol.  These heat treated music wire springs are the finest quality coil springs on the market and will provide you with exceptional service.  Extra Power recoil springs are rated for standard velocity and high-velocity loads and a reduced power hammer spring improves your trigger pull and reduces the force required to cycle the slide. These springs are built from high tensile spring steel, ensuring a consistently smooth action, positive ignition and proper timing. 
Contains the following springs:
   P10G18 - Spring, Recoil, Govt., 18 1/2# 

   P26 – Extra Power Firing Pin Spring 

   P27 – Reduced Power Hammer Spring 18#   

   R15A – Mag Catch Spring  

   R29 – Sear Spring  

   R33PS – Plunger Tube Spring
-Feel confident purchasing from an ebaY Pro!
Thanks Again
-Chris