2 Pack of Wilson Combat 47SX 9 Round .38 SUPER 1911 Magazines NEW
"The most reliable magazine in the world!"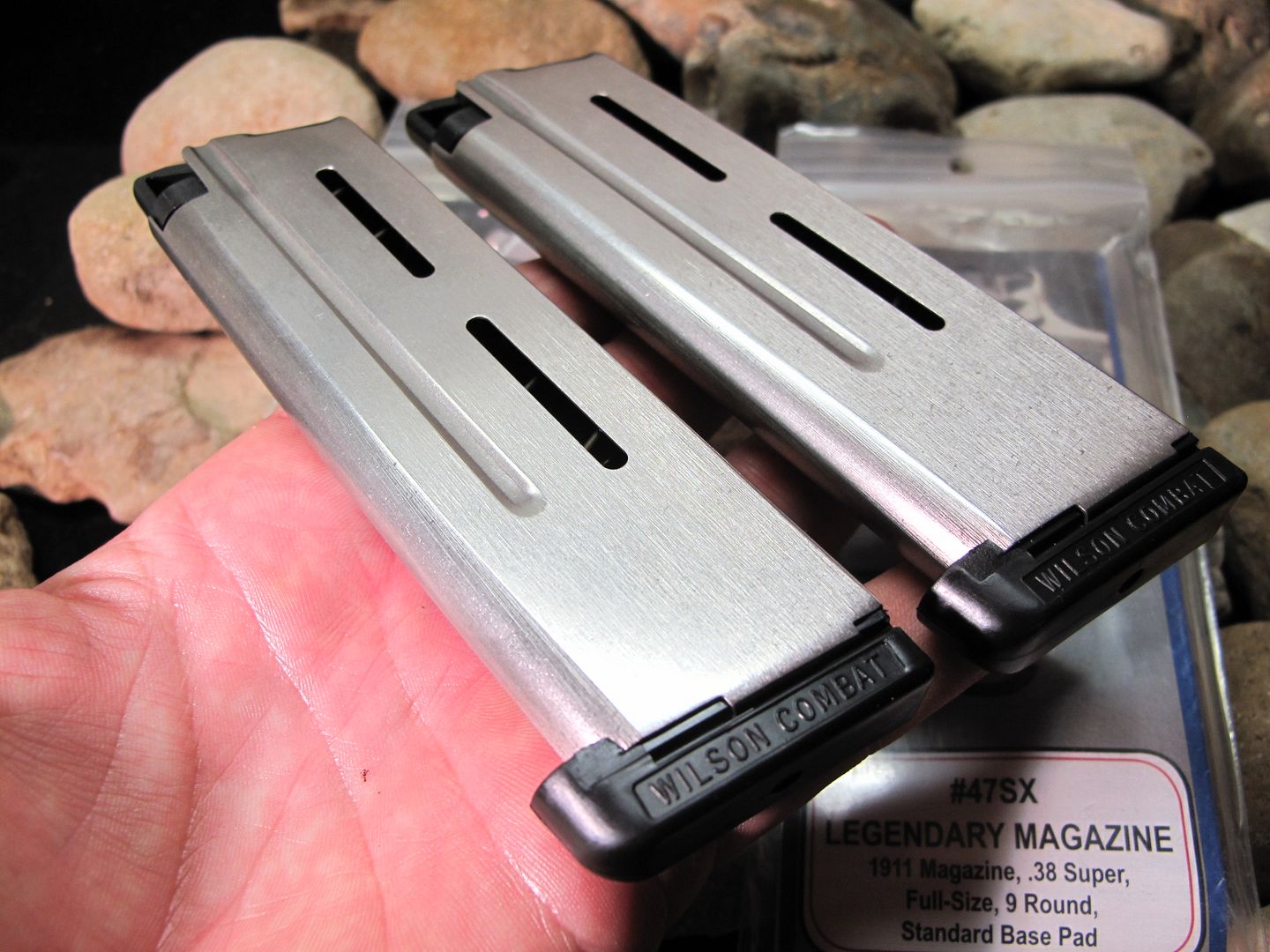 -Two Pack of Stainless Wilson Combat 47SX 9-round .38 Super 1911 Magazines.
-Brand new in factory packaging.
-With Extended Slam Pad.
-I don't usually weigh stuff but these mags are EXTREMELY light (see photo of weight)
-The Best Mag in the business. Fully Factory Guaranteed.
-The Cheapest way to ensure PERFECT pistol function.
-1911 GOVERNMENT 1911 The magazine holds 9 rounds of ammunition and has a stainless steel finish.
-Single-stack magazine.
-Fits Colt Government and Commander models
- Model Colt 1911 .38 Super
- Finish/Color- Stainless
- Caliber .38 Super
The ETM started with a blank sheet of paper and 30+ years of 1911 and 1911 magazine experience. It WILL set a new standard in 1911 magazines while redefining state-of-the-art.
Increases Reliability in ALL 1911 Pistols


Aircraft Grade Certified Stainless Steel Tube Resists Corrosion


Refined Radius for Each Bend in the Tube to Take Advantage of the Strength in the Stainless Steel


Proprietary, Custom Designed Welding Process


Proprietary Multi-Step Tumbling and Finishing Process Provides Smooth Follower Operation and Insertion into the Weapon


Innovative Follower Design With its Extended Skirt Ensures Stability in Operation and Minimizes Creep from the Tube when the Magazine is Empty


Fiber-Fill Nylon Self-Lubricating Follower Provides Smooth Round Feeding


Positive Slide-Lock After the Last Round has been Fired


Space-Age Stainless Steel Spring Wire is Phenomenal for Spring Life


The ETM Seats and Locks in the Weapon with the Slide Down


Removable Base Pad for Easy Maintenance and Versatility with Different Base Pad Options


The Quality Control Behind the ETM Promises a Lifetime of Smooth and Reliable Operation


No-Risk Service Policy - If It Breaks from Normal Use, Wilson will Replace It!
- Feel Free to ask any questions you may have